Common dental problems faced by children
In this article we are going to look at two common problems in children
(1) Baby bottle tooth decay
(2) Thumb sucking
Baby bottle tooth decay:
Baby bottle tooth decay is caused by the frequent and long-term exposure of a child's teeth to liquids containing sugars. Every time a child consumes a sugary liquid, acid attacks the teeth and gums. After numerous attacks, tooth decay can begin.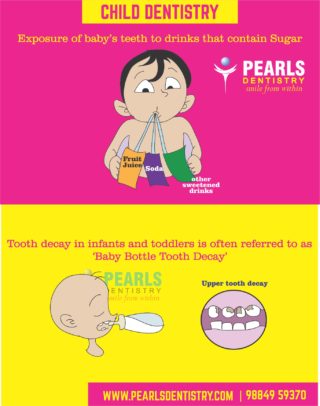 How to prevent baby bottle tooth decay Never allow children to fall asleep with a bottle containing milk, formula, juice or other sweetened liquids.
Be sure to clean and massage the baby's gums once a day to help establish healthy teeth and to aid in teething.
Healthy baby teeth will usually result in healthy permanent teeth.
Thumb sucking:
 Babies have a natural urge to suck their thumb. This urge usually decreases after the age of 6 months. But many babies continue to suck their thumbs to soothe themselves. Thumb-sucking can become a habit in babies and young children who use it to comfort themselves when they feel hungry, afraid, restless or bored.
Children who suck their thumbs often or with great intensity around age 4 or 5, or those who are still sucking their thumbs at age 6, are at risk for dental or speech problems.
Prevention:
Home treatment includes parents setting rules and providing distractions. It may help to limit the times and places that your child is allowed to suck his or her thumb and to put away blankets or other items your child associates with thumb-sucking. Putting gloves on your child's hands or wrapping the thumb with an adhesive bandage or a cloth may help remind your child not to suck the thumb.
Offering praise, positive attention, and rewards for not thumb-sucking may also help your child break the habit.
Don't shame or punish your child for thumb-sucking. This will only lower your child's self-esteem.
If home treatment doesn't work and you are concerned or feel frustrated about your child's thumb-sucking, talk with your child's doctor.