Ask Pearls Dentistry about Dental Implants?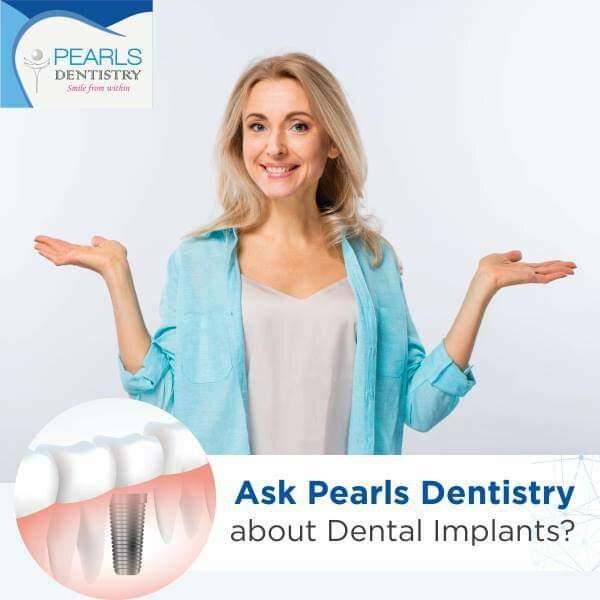 FAQ's
What is a Dental Implant?
Dental Implants are Titanium Posts, which are used to replace a single, or multiple missing teeth. They replicate the tooth root in their form & function and provide the required support structure for a crown to be fitted over.
How long will implants last?
Titanium is a Bio inert material & therefore once placed in bone Implants integrate to last a lifetime. Causes of an Implant failure are generally residual infection within the bone or peri-implantitis caused by inadequate oral hygiene.
What are the benefits of a dental implant over the conventional denture/bridge replacement?
Dental Implants are permanent fixtures replacing the missing teeth. Hence they offer better chewing efficiency compared to a denture which is instable and tends to dislodge easily. Bridges offer better chewing efficiency as compared to dentures but involves cutting down sound adjacent teeth for support. Also the life expectancy of a bridge depends on the health of the adjacent teeth.
Is the placement of implants painful? How long does it take?
Implant placement is a precise protocol, which involves pre planning for a seamless surgery. It therefore does not result in much post-operative discomfort or pain. Under normal circumstances the time required for implant bone integration is about 2 to 3 months, and hence are loaded only after this time period. However, in certain circumstances Implant are loaded immediately so that an provisional restoration is given instantly at the time of implant placement. When extensive treatment is needed, or in poor bone quality or grafting procedures more time i.e. 6-9 months are needed for implant integration.
Visit https://pearlsdentistry.in/ today for more details.
#Smiles #Dentistry #Chennai #PearlsDentistry #DrArunkumar #DentistinChennai #DentalClinicChennai #Prosthodontist #SmileDesign #Dentist #DigitalDentalclinic #Today #Tooth #Teeth #Appointment #Doctor #digital #Happy #News #Visit #SingleVist #March #Monday #Time #DigitalDentistry #Durability #Delivery #SameDay #3D — at Pearls Dentistry.